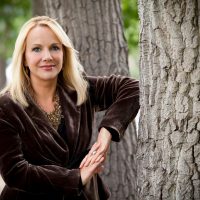 Angie Austin Show – Weekdays 5am-7am
National radio host Angie Austin adds a new shot of joy and politics to Denver's conservative talker, KLZ 560. Heard from 5-7am and again at 11am, The Angie Austin Show features timely headlines infused with positive energy. With 20 years of TV experience including news anchor and weather forecaster positions on NBC4, Los Angeles, FOX6, San Diego, and ABC, Santa Barbara, Angie Austin now invigorates Colorado listeners weekday mornings from on Crawford Broadcasting's KLZ.
Professionals from The Blaze, Heat Street, Faithwire, Fox News, and Breitbart join Angie Austin on America's longest-running morning magazine show to revitalize the airwaves through relevant news shared with an upbeat, badly-needed encouraging attitude. Launch your workday with trending news, lifestyle topics, hard news, and politics on Daybreak USA with Angie Austin, now heard from Fort Collins to Pueblo on KLZ.