Dr. Thorne's Traveling Emporium & Medicine Show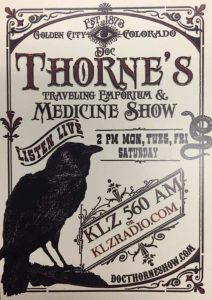 As Heard On… Dr. Thorne will be talking in future shows about his work through the American Family Justice Project. Click here for information about the work of the American Family Justice Project around 2010.
Greetings and salutations!  Ladies and gentlemen, boys and girls, young people of all ages from 3 to 103 … Dr. Thorne's Traveling Emporium & Medicine Show is here for your listening pleasure. Have you ever experienced a Medicine Show?  All kinds of remedies and cures for all kind of ills.  You will find that – when taken in small doses – Dr. Thorne is good for what ails you.  You can rest assured that a dose of Dr. Thorne may not cure you, but you will feel better.
Dr. Thorne is creator and host of a truly "one-of-a-kind" talk radio show, in it, Dr. Thorne takes a deep look into a wide array of topics through the lens of his life experience. Dr. Thorne's mission is to be your trustworthy source of facts and commentary while "Talking With You About Things That Matter".
After 37 years as an attorney, Dr. Thorne has redirected his work in the legal profession to sharing with others his love of people, his passion for individual liberty, his respect for the truth, justice, and the American Way, and his understanding of the Rule of Law in the American System of Justice. In order to reach and teach as many people as possible, Dr. Thorne is working through talk radio and modern communication technology to build a community of like-minded people.
Hidden behind Dr. Thorne's old-school manners and gracious Southern style is a battle-hardened warrior with over three decades as an attorney and expertise in history, energy law, family law, and Constitutional law. Of course, Dr. Thorne had a good formal education – at Baylor University in Texas – one of the leading private universities in the South (Bachelor of Arts, History, 1977; Juris Doctor, 1981). But because Dr. Thorne has personally experienced the human condition from the highest of highs to the lowest of lows, he knows full well that his more valuable education has been in "the school of life".
As a result, Dr. Thorne's most meaningful asset is his unique perspective – a perspective shaped by over 35 years of rich life experience as an attorney, counselor, mediator, speaker, author, student of the political process, historian, policy analyst, teacher, legal system insider, and father of two sons and a daughter. Dr. Thorne has a rare ability to share that perspective with his listeners in an engaging and endearing way.
So do not be misled by the amusing name of the show – there is far more to "Dr. Thorne's Traveling Emporium & Medicine Show" than that name implies. And remember – a dose of Dr. Thorne may not cure what ails you, but it sure will make you feel better.

Dr. Thorne's Traveling Emporium & Medicine Show Video Playlists
Dr. Thorne Show Recent Post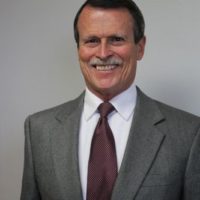 Al Smith, with Golden Eagle Financial hosts a informative program on KLZ 560 the first and third Wednesday each month.  For more information on...
Read More