Shooting Range-Firearms Training-Gun Shop-Gun Smithing
Franktown Firearms also offers Tactical Fun Nights,
Ladies Only Nights, and More on Friday evenings!
Check their events page for more information.
Franktown Firearms wants you to be comfortable with your firearm purchase, so they make it easy for you!
At Franktown they know you want to try a firearm before you commit to your purchase. 
Franktown has a 10-lane, 30-yard range built into it that can handle handguns, rifles and black powder loads, making your firearm purchase informed and insightful. 
An hour of range time is included with any purchase so you can verify that you've made the right choice and for you to get to know your new firearm.  And training courses are available to teach you safety and techniques to operate it confidently.  
Whether you're a first-time buyer or seasoned expert, Franktown's dedicated staff and expert trainers will walk with you through your decision. They help you to try the firearms that you are interested in, ensuring that they're the right option for your specific needs. 
Whether you're looking for your first firearm, or adding to your vast collection, contact franktown firearms today by filling out the form below to join the Franktown Firearms community and get shooting today!
Franktown Firearms: Where Friends Are Made
Karen Murray of Franktown Firearms on KLZ's Rush to Reason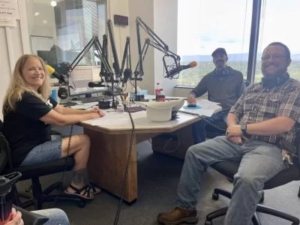 Franktown Firearms
Submit this form to reach out to the folks at Franktown Firearms for any requests you may have.
My wife and I took a gun safety course at Franktown Firearms this past weekend. Karen did a great job, and the staff was helpful and friendly.

I made sure to mention that I heard of Franktown Firearms from the "Rush to Reason" radio program. Advertising works!

Take Care.
My wife and I just took lessons with Karen. She was a great instructor.
Excellent environment, top notch smith, extremely knowledgeable staff, and great 25yd range for anyone in the area or looking for somewhere new!