Monday -- 12:00 PM - 01:00 PM
Tuesday -- 12:00 PM - 01:00 PM
Wednesday -- 12:00 PM - 01:00 PM
Thursday -- 12:00 PM - 01:00 PM
Friday -- 12:00 PM - 01:00 PM
Saturday -- 08:00 PM - 10:00 PM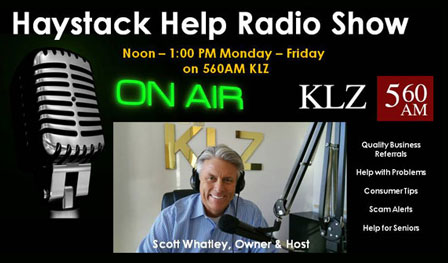 Scott Whatley knows that finding HELP can be like finding a needle in a haystack — but with Haystack Help, finding the needle just got a lot easier!
303-333-HELP (4357) is the telephone hot line to get help. Scott Whatley personally answers each call and will get directly involved along with his Official Haystack Registered Companies, regulatory agencies and local authorities to solve problems, answer questions, handle complaints and refer great companies to consumers who are looking for the best service in Colorado – Scott is here to HELP!
Since January 2009, Haystack Help and www.HaystackHelp.com has been engaging consumers with a trusted source to find the most qualified, reliable and reputable companies in Colorado who pledge to deliver an exceptional customer experience, fair pricing and quality workmanship while generating substantive, measurable results to the Official Haystack Registered Companies.
Haystack Help Radio Video Playlists
Haystack Help Radio Photos
Haystack Help Radio Recent Post
WE THE PEOPLE is what our beloved Constitution is all about, including and especially the Bill of Rights. America is all about freedom, clearly...
Read More
I believe in diversity, do you? That is, that all men and women are created equal in the sight of God and among...
Read More
Do you believe in Christian education? That is, a University dedicated to strong Liberal Arts education, intellectual excellence competing with even better than so...
Read More
Elections 2020 have already begun, don't you think so my fellow Americans? There are candidates everywhere. Fundraising is aggressive and early. Attack advertising, normally...
Read More