Monday -- 12:00 PM - 01:00 PM
Tuesday -- 12:00 PM - 01:00 PM
Wednesday -- 12:00 PM - 01:00 PM
Thursday -- 12:00 PM - 01:00 PM
Friday -- 12:00 PM - 01:00 PM
Saturday -- 08:00 PM - 10:00 PM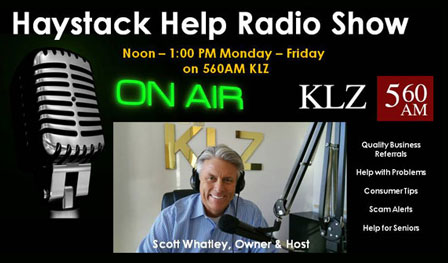 Scott Whatley knows that finding HELP can be like finding a needle in a haystack — but with Haystack Help, finding the needle just got a lot easier!
303-333-HELP (4357) is the telephone hot line to get help. Scott Whatley personally answers each call and will get directly involved along with his Official Haystack Registered Companies, regulatory agencies and local authorities to solve problems, answer questions, handle complaints and refer great companies to consumers who are looking for the best service in Colorado – Scott is here to HELP!
Since January 2009, Haystack Help and www.HaystackHelp.com has been engaging consumers with a trusted source to find the most qualified, reliable and reputable companies in Colorado who pledge to deliver an exceptional customer experience, fair pricing and quality workmanship while generating substantive, measurable results to the Official Haystack Registered Companies.
Haystack Help Radio Video Playlists
Haystack Help Radio Photos
Haystack Help Radio Recent Post
18 years ago, we the people were attacked and confronted as a nation by militant, Islamic terrorists. Our very own World Trade Center, centers...
Read More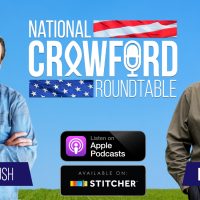 Crawford Broadcasting is proud to announce the National Crawford Roundtable. KLZ Radio will air the first part and the second half will be...
Read More
Dark times in America, are they not my fellow Americans? It seems like everything that emanates currently from Washington D.C., at least from the...
Read More
Work is good. Work is necessary for the fulfillment of every human being. Work is required of every person according to his or her...
Read More