National Crawford Roundtable
Monday -- 12:00 AM - 12:59 AM
Tuesday -- 12:00 AM - 12:59 AM
Wednesday -- 12:00 AM - 12:59 AM
Thursday -- 12:00 AM - 12:59 AM
Friday -- 12:00 AM - 12:59 AM
Saturday -- 12:00 AM - 12:59 AM / 03:30 PM - 04:00 PM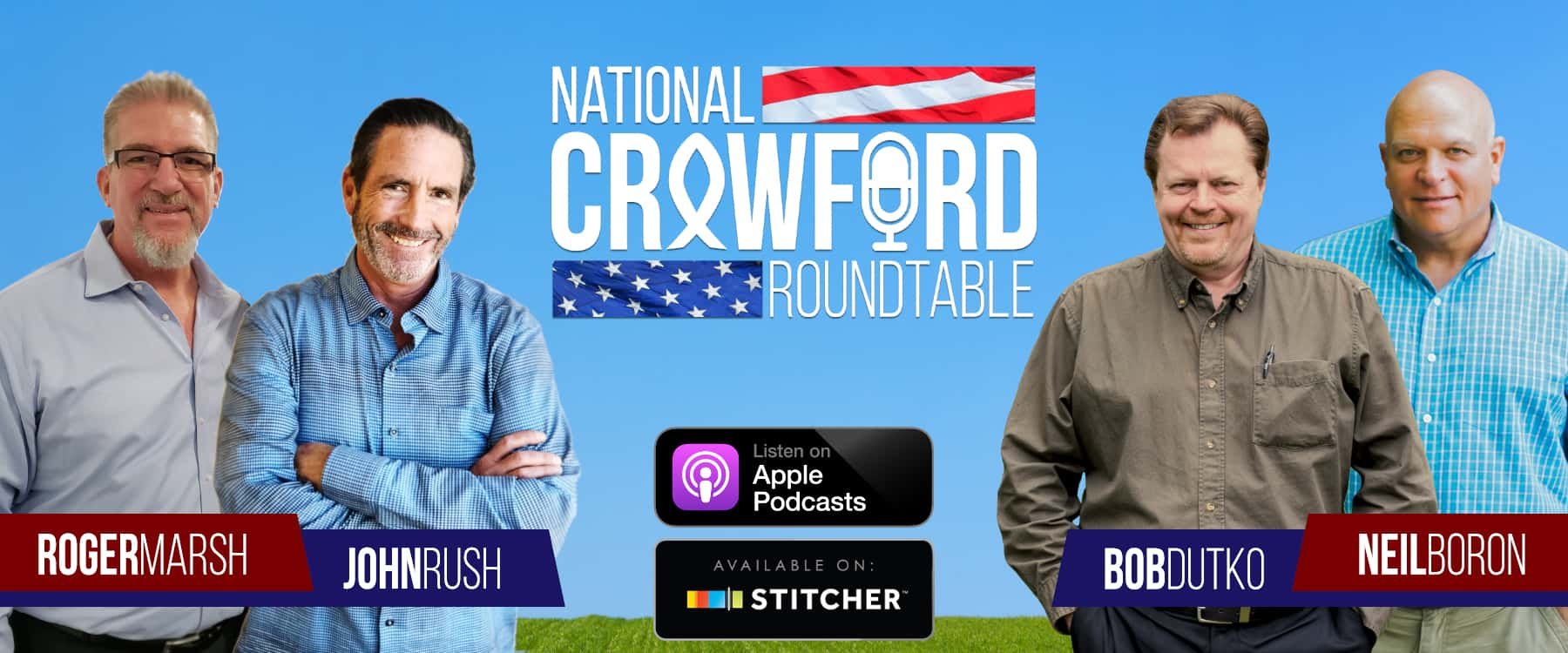 <div class="et_pb_text et_pb_module et_pb_bg_layout_light et_pb_text_align_left et_pb_text_0″>
<img class="wp-image-5415 aligncenter" src="https://dehayf5mhw1h7.cloudfront.net/wp-content/uploads/sites/1018/2019/08/22161909/NCR-large-web-banner-1800×750-1024×427.jpg" alt="" width="585″ height="244″ />
Crawford Broadcasting is proud to announce the National Crawford Roundtable. KLZ Radio will air the first part and the second half will be available below and on podcast apps like Apple Podcasts, Stitcher, TuneIn and more.
We've put together a powerful panel of hosts to give you an honest review of what's happening in our world.
Produced by the Crawford Broadcasting Company, the National Crawford Roundtable will include current events, hard news, cultural ideas and more. All with no left wing agenda.
Join our hosts, Bob Dutko, Neil Boron, John Rush, and Roger Marsh on this journey every week.
<iframe src="https://player.simplecast.com/3215b3fa-1ba4-4515-8ff6-2a4564410b6a?dark=false&amp;show=true" width="100%" height="480px" frameborder="no" scrolling="no" seamless=""></iframe>
</div>
National Crawford Roundtable Video Playlists
National Crawford Roundtable Photos
National Crawford Roundtable Recent Post
WE THE PEOPLE is what our beloved Constitution is all about, including and especially the Bill of Rights. America is all about freedom, clearly...
Read More
I believe in diversity, do you? That is, that all men and women are created equal in the sight of God and among...
Read More
Do you believe in Christian education? That is, a University dedicated to strong Liberal Arts education, intellectual excellence competing with even better than so...
Read More
Elections 2020 have already begun, don't you think so my fellow Americans? There are candidates everywhere. Fundraising is aggressive and early. Attack advertising, normally...
Read More