Sunday -- 04:00 PM - 05:00 PM / 08:00 AM - 08:59 AM
Saturday -- 01:00 PM - 02:00 PM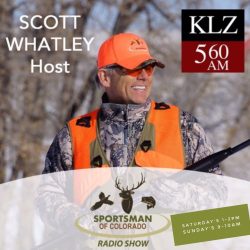 Sportsman of Colorado is Colorado's outdoorsman radio show that airs every Saturday at 1:00-2:00 p.m. on KLZ 560 AM. Founder & Host Scott Whatley and Co-Host Kevin Flesch offer a variety of hunting and fishing experts, outfitters, guns, ammo, and archery specialists to keep hunters, anglers and outdoorsman informed of techniques, products, gear, conservation news, and the upcoming seasons.
No other Colorado radio broadcast operation provides the listening area coverage footprint of KLZ 560AM . The Sportsman Of Colorado Radio Show reaches into Wyoming, west to Craig, Colorado, south past Trinidad, Colorado, and east into Kansas!
Sportsman of Colorado provides radio listeners and the online community with a premier destination for the outdoorsman enthusiast. We showcase a distinctive blend of interviews, education, and practical information from wildlife experts.
Our goal is to provide a forum to collect and disseminate information on the best products and services, outdoor stories and photography, articles, advice and tips. We thoroughly research and only select knowledgeable businesses that cater to the passionate outdoorsman.
Scott Whatley: Sportsman of Colorado Video Playlists
Scott Whatley: Sportsman of Colorado Photos
Scott Whatley: Sportsman of Colorado Recent Post
WE THE PEOPLE is what our beloved Constitution is all about, including and especially the Bill of Rights. America is all about freedom, clearly...
Read More
I believe in diversity, do you? That is, that all men and women are created equal in the sight of God and among...
Read More
Do you believe in Christian education? That is, a University dedicated to strong Liberal Arts education, intellectual excellence competing with even better than so...
Read More
Elections 2020 have already begun, don't you think so my fellow Americans? There are candidates everywhere. Fundraising is aggressive and early. Attack advertising, normally...
Read More